ENGLISH BLOG
Case: 27 33-year-old female hospital stay: March 7, 2016 to June 7,
Mama patient got clean as well

It was about the ear breakage eczema in early infancy but at the elementary school dermatitis caused by chlorine in the pool triggered the occurrence of atopic dermatitis in the extremities of the limbs flexion, until the high school graduation he was using external steroid. He attempted steroid-free by private bathing therapy at the first year of university, but it got deteriorated systemically. Because of systemic inflammation accompanied by a fever, he was admitted to a university hospital and resumed steroid therapy.
Even after discharge, steroid topical was used for 11 years, but the effect declined two years ago. It was enhanced from Medium type to Very Strong type, but it has become impossible to suppress.
Because she felt uneasy about the outlook, she tried steroid-free, and took chinese medicine → Electrical treatment → Suction treatment → Bathing treatment using hot spring.
Hot spring bathing was effective, and she could live a normal life without using steroids for 1 year. Five months before hospitalization, it got worse after oral administration of publicly available supplements. She tried hot spring bathing again three months before, but this time it worsened systemically.
Systemic atopic dermatitis and chills came to occur, She is a mama who had a child of 3 years old and 5 years old but with her mother's help, she hospitalized in our hospital for 2 months and a half at our hospital.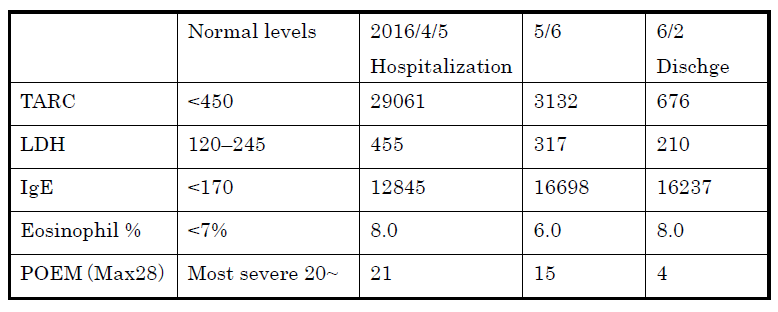 The Th2 type of inflammatory marker TARC is 29061 → 3132 → 676. The score POEM representing the subjective symptom is declining rapidly from 21 → 15 → 4. As a hygiene hypothesis (a cause theory that atopic dermatitis is caused by the living environment that is too hygienic with little bacteria to make enough immunity in infancy period and the body becomes allergic.), atopic dermatitis patients have distored immunity and there is a yellow fungus or a yeast-like fungus, so the patient's skin is full of pathogenic bacteria. Especially Staphylococcus produces many strong toxins, increasing atopic dermatitis and and acting as a superantigen.
The Biological Spa care (BSC) that the patient is doing at our hospital suppresses pathogenic bacteria by the power of bio and corrects Th2 dominant allergic immunity. In this case, systemic infection of yellow fungus caused acute phase atopic dermatitis, effective bacteria in BSC bath suppressed pathogenic bacteria, Th2 dominant atopic dermatitis typified by TARC is improved. I would like to present the details of these mechanisms clearly in the paper.
Effectiveness of pathogenic bacteria suppressive therapy by chlorine bathing introduced in the guidelines for treatment of atopic dermatitis in the United States is almost denied effect safety in subsequent examination. As can be seen in this case, exacerbation of atopic dermatitis due to the stimulation of chlorine is a routine event and nonsense. Although spa therapy is effective in some cases, research is not done on the mechanism, so at present, this therapy is a regrettable state as a therapy.